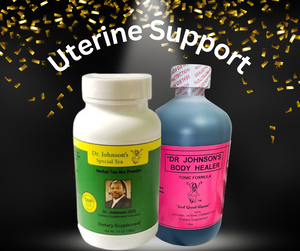 Dr. JL Johnson's Product Total Woman (Granules) is one of our best-granulated formulas made with 100% natural herbs designed to support the body in maintaining the proper function of the female organs. 

Embrace the gentle support of our Uterine Harmony Herbal Support, a tender companion on your journey towards holistic well-being. Crafted with intention and reverence, this blend echoes the wisdom of nature, offering a nurturing touch to the divine feminine realms of the uterus, ovaries, and pelvis.

Each ingredient within this blend has been mindfully chosen to walk alongside you, fostering an environment that encourages balance and detoxification without making any robust claims. Let this delicate symphony of herbs and botanicals be your ally, honoring and supporting your body's natural rhythms and cycles.
Suggested Use: Take 1 gram with warm water two times a day or make an herbal drink with 3oz of hot water. Stir in Granules.
Please note.
It takes at least 3 months to correct a woman's cycle.


The Body Healer™ is a very unique combination of the most stable herbs well-known to the market and effective in supporting the body's ability to maintain a healthy upper stomach, lower stomach, and colon regularity, thereby helping to increase vitality and energy. By supplying both vitamins and minerals, this unique combination of herbs also helps support the body in boosting the immune system and promoting detoxification. 
Perfect For:
Body Cleanser
Multi Vitamin
Bad breath
Body odor
Our tonic formula is one of the best children tonic on the market.
WARNINGS:***As with any herbal formula consult your healthcare practitioner before using this product, especially if you are pregnant or nursing.
Disclaimer:  The product aired and the claims made about this product or any other product on this site have not been evaluated by Dr. Johnson's Products or the United States Food and Drug Administration and are not approved to diagnose, treat, cure, or prevent disease. The information provided on this site is for informational purposes only and is not intended as a substitute for advice from your physician, other healing professional, or any other information contained on or in any product label or packaging.