Healing Is Our Mission
Feel better with our products
Our products offers a range of health and nutrition products designed to support healing and provide vitamins and minerals to help you feel better.
Easy to use and affordable
Our products are easy to use, affordable, and designed with your health in mind. We believe everyone should have access to healthy nutrition for a better life.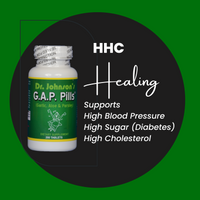 HHC Support
Struggling to keep your blood, sugar, and cholesterol levels in check?
Don't worry, we have the perfect solution for you! G.A.P. Pills – the ultimate high blood, sugar, and cholesterol detox pills!
Start your journey towards healthy circulation with G.A.P. Pills today and get amazing results! Our natural formula will help you look & feel better by reducing bloating, fatigue & more!
HHC SUPPORT
Top Products
(2) G.A.P. Pills (200)

Body Healer

Regular price

from $39.95

Formula C (18oz)