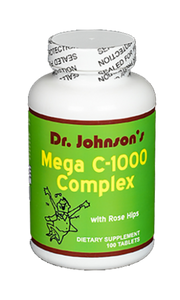 Dr. Johnson's Mega C 1000 mg (100 tablets) is the most comprehensive Vitamin C formula.  Each Mega C-1000 tablet supplies one gram of Vitamin C plus bioflavonoid complex (citric) for maximum daily Vitamin C intake.
The bioflavonoids are protective antioxidant factors, which helps to strengthen the blood vessels, veins, and capillaries in your circulatory system.
The 530 mg of bioflavonoids plus rutin, hesperidin complex and acerola is one of the best combinations to help Vitamin C support the painkilling qualities of the body.
We've also added quercetin to help the eyes.